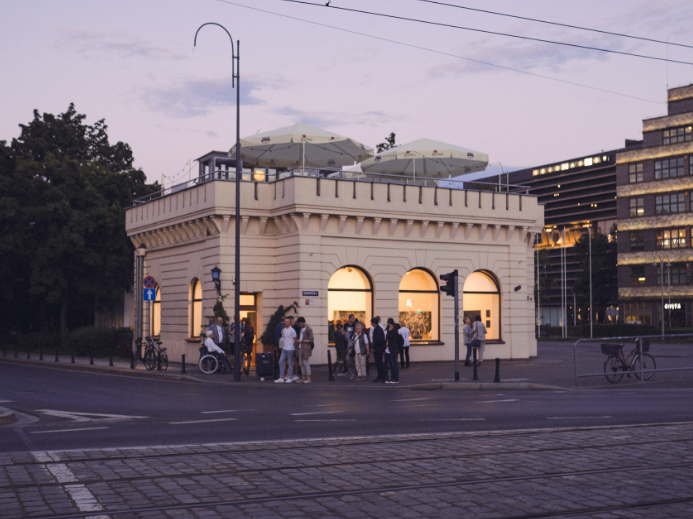 Galeria M has been active in the contemporary art market since 1997.
We represent artists, organize exhibitions, take part in art fairs in Poland and abroad, and publish. Our main goal is to promote the work of Polish artists and show a broad spectrum of visual arts: painting, printmaking, drawing, sculpture, glass and ceramic art.
Galeria M – galeria sztuki współczesnej od 1997 r.
Prowadzona przez Marię i Martę Dziedziniewicz Galeria M jest jedną z najdłużej – bo od 1997 r. – działających w Polsce prywatnych galerii sztuki współczesnej. Świat się zmienia i my także, lecz nie nasze motywacje i dążenia. Wspieramy utalentowane artystki i artystów, kolekcjonerów sztuki i wszystkich tych, którzy cenią w swoim życiu sztukę współczesną – budując między nimi pomost. Są nimi nasze wystawy i udział w prestiżowych targach sztuki, publikacje i inne działania promocyjne, a także sprzedaż obrazów, grafik, rysunków, rzeźb i ceramiki. Zapraszamy artystów, kolekcjonerów, urządzających wnętrza, szukających wyjątkowego prezentu dla bliskiej osoby, projektantów i firmy – dla sztuki i po dzieła sztuki. Jesteśmy otwarci na Wasze pomysły, doświadczenia i pragnienia.
Kierunek galeria sztuki – Wrocław, ul. Świdnicka 38a
Na rynku sztuki współczesnej łączymy dwa światy – pierwszy to ten fizyczny, przestrzeń naszej galerii sztuki we Wrocławiu i wszystkie te wydarzenia, które przygotowujemy i w których aktywnie uczestniczymy. Organizujemy wystawy dzieł sztuki naszych twórców: indywidualne i zbiorowe oraz tematyczne. Promujemy artystów w kraju i na całym świecie. A "nasze" obrazy sztuki nowoczesnej odwiedziły m.in. tak prestiżowe targi, jak Warszawskie Targi Sztuki czy Affordable Art Fair w Hamburgu i Amsterdamie. Współpracujemy również z odbiorcami indywidualnymi i instytucjonalnymi oraz obsługujemy firmowe eventy.
Galeria sztuki online – internetowy sklep z dziełami sztuki
I świat wirtualny – to nasza internetowa galeria sztuki. Galeria obrazów, rysunków, grafiki, rzeźby i ceramiki. Sklep online, w którym komfortowo nabędziecie obrazy sztuki współczesnej, grafiki wykonane różnymi technikami i inne prace, które będą doskonale prezentować się we wnętrzach, poruszać dusze i umysły. To również wiedza, rozrywka, doradztwo, nasza pomoc czy doświadczenie, którymi chętnie się dzielimy podczas rozmów i w publikacjach na naszym blogu.
Dla artystów, dla koneserów sztuki, dla projektantów i firm
Galeria M jest dla artystów – zaprezentujemy Wasze prace szerokiej publiczności w kraju i na świecie. Jest też dla koneserów i kolekcjonerów – wzbogacimy Wasze zasoby w odważną i unikatową sztukę współczesną o rosnącej wartości. Wspieramy także projektantów, dla których sztuka współczesna jest integralnym elementem nowoczesnego wnętrza. I wreszcie pracujemy dla klientów indywidualnych i firmowych: proponujemy szeroki wybór obrazów, grafik, rzeźb i innych dzieł, które świetnie spisują się w roli dekoracji wnętrza oraz spersonalizowanego prezentu. Zapraszamy!